Yumi la poupée sexuelle pas chère
Poupée TPE pas chère - 140cm bonnet F
1090€
1090€
Yumi est une superbe poupée sexuelle à petit prix
Si vous recherchez une poupée réaliste jolie et pas chère, Yumi est la solution avec son excellent rapport qualité-prix !
Produite pour la société JoyHouse, cette poupée sexuelle de dernière génération est fabriqué en matière TPE, qui imite à la perfection la peau humaine : douceur et souplesse... le tout sur une architecture de squelette métallique, une vrai reproduction d'une petite asiatique !
Vivez expérience sexuelle délicieuse avec une poupée d'amour
Yumi a tout pour plaire, déjà physiquement à l'œil, elle a l'air tellement vivante et réaliste, qu'il faut vraiment se frotter les yeux pour s'apercevoir que c'est une poupée.
Avec une taille humaine (140cm), pas trop grande ni trop petite, ses superbes seins bonnet F, elle est la compagne parfaite pour les hommes voulant profiter d'une autre sorte de plaisir que peuvent apporter les simples masturbateurs.
Yumi c'est plus qu'un sex toy, c'est une vraie présence et il n'est pas rare que l'on ai une réelle affection pour la poupée qui enrobe vos nuits dans une ambiance chaude et sexy.
Yumi est faite pour faire l'amour sans concessions
Yumi a un corps parfaitement articulé pour prendre les positions que vous appréciez, déjà vous pouvez en profiter pour la prendre en photo sous tous les angles, elle sera un modèle parfait et votre objectif n'aura jamais vu une telle beauté offerte à lui.
Ensuite avec ses trois orifices, c'est une explosion de possibilités qui s'offrent à vous, un petit vagin étroit et doux qu'il faudra lubrifier avec attention, pour profiter d'une pénétration délectable, ou vous profiterez de la sensation d'un vrai petit minou Japonais à chaque va et viens...
Si l'ambiance devient encore plus chaude, son anus serré est là pour vous combler, avec une texture différente du vagin, pourquoi pas en doggy style ?
Une poupée pour adultes consentante
Sa bouche pourra aussi vous accueillir avec joie, Yumi sera toujours ouverte à toutes proposition, c'est une poupée sexuelle et elle connait son affaire, votre plaisir est sa plus grande récompense !
Profitez à fond de ce qu'une poupée pour adulte peux vous apporter, personnalisez-là pour qu'elle ressemble au mieux à vos désirs, changez de perruque et même de visage si vous le souhaitez, de nombreuses options vous permettrons de ne jamais vous lasser de votre Yumi.
Features
Lovely TPE doll, very beautifull doll with realistic looking, customize your love doll with your favorite combination of hair skin color and eyes... Enjoy a fantasy erotic experience with our real dolls.
Description
Lifelike Sexual oral, vaginal & anal holes.
Soft realistic TPE skin.
Metallic Skeleton 100% articulated.
Free discreet shipping, learn more.
We love all of our dolls here at MySiliconeLoveDoll, but we are blown away by these girls who blur the lines of reality bringing you the most realistic sexual experience you can imagine.
Spécifications
Dimensions & Poids
Hauteu : 140cm
Poids : 24.5kg
Bonnet : F-Cup
Poitrine : 75cm
Taille : 45cm
Hanches : 75cm
Orifices Sexuels
Vaginal (profondeur de 17cm)
Anal (profondeur de 16cm)
Oral (profondeur de 14cm)
Matériaux
Peau 100% TPE (Thermoplastic elastomer, dérivé du silicone)
Squelette métallique articulé
Vagina & Anal photos
Shaved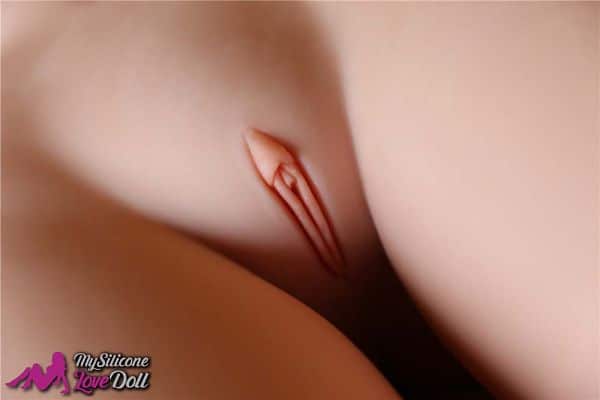 FAQ
Order and Options
Do all dolls have both heating and sound options?
Most of our dolls offer both heating and sound options. You can choose a doll with both functions or simply choose one or the other.
Which areas will heat up?
All areas will heat up with the exception of the head, neck, breasts, hands, and feet.
Can I order a doll with both heating and oral functions?
Yes, you can. All oral heads have the option to add both heating and sound. The one exception is head A25 which we can only offer with heating and sound or with heating and oral.
Are standing options available for all dolls?
Standing options are available for all dolls that are within the 140cm to 170cm range.
Are the heads interchangeable?
Dolls' heads without heat and sound features are interchangeable with each other. However, those that have either of these features are not. Interchanging these heads will result in the loss of sound and heating.
What's the difference between the built-in and removable vaginas?
Both have the same feeling and appearance although built-in vaginas are more robust and should last longer. Removable vaginas, however, are easier to clean.
What are the free options?
Skin color, wigs, eye color, and nails are free options that we provide. Further options such as additional wigs, eyes, or inserts, standing and hanging options, and articulated fingers are paid extras.
What else do I get with my doll?
Select accessories are provided with each doll. These may include a sleeping bag, wig, vagina warmer, vibrating egg, comb, gloves, syringe, and underwear.
Can I buy extra items separately?
Yes, you can purchase many items such as wigs, heads, removable vaginas, eyes, and outfits at any time you wish.
Delivery
How long will it take to get my doll?
It takes us about
7-15 days to produce
your doll and then a further
5-7 days to ship
by FedEx, TNT, or DHL.
Does the price include shipping costs?
Yes, we offer free shipping to any country in the world that allows the import of sex dolls.
Payment
What payments do you accept?
We accept payments through PayPal or by credit card. We also accept bank wire transfers.
Will my bank statement/credit card bill show that I purchased a doll ?
No. We understand that discretion is important to our customers, so there will be nothing on your bill/statement that reveals the nature of your purchase.
Others
Do you have videos of your dolls?
Yes, all our videos are on our
YouTube channel
.
Daily Care
Clothing
Always use the included clothing test adhesive to ensure that any clothing you purchase for your doll is suitable. Test your doll's new clothing by placing the test adhesive on the fabric for at least one hour. If the adhesive is stained when removed, the fabric is not suitable, and you should not use the clothes.

Silicone has a slightly sticky surface so you should lightly dust your doll with talcum powder before putting on any clothing.

You can also use an electrostatic spray to limit the chances of static electricity between the clothing and your doll's skin.

Remove your doll's head before putting clothes on its upper body.

Take care not to bend or raise your doll's arms beyond their limitations (similar to that of a person) as this may cause fractures in the silicone.

Make sure that none of your doll's clothing has sharp edges that touch the skin as this may also damage the silicone.

If you are having difficulty with tight clothing such as jeans or stockings, try another light dusting of talcum powder. However, it's advisable to avoid extremely tight clothing as the pressure on your doll's body, and limbs can cause the silicone to become misshapen.

Always use the right size clothing. Squeezing your doll into clothes that are too small can cause permanent damage.

Maintenance
Silicone will produce oils, and at times these may be visible on your doll's skin. This is perfectly natural and all you need to do is gently wipe it off with a towel.

If your doll's skin becomes stained, you can gently clean the affected area with soapy water. Never use any corrosive cleaning agents. After drying, lightly dust your doll's skin with talcum powder.

Generally speaking, you can use the same products on your doll as you do on yourself and your clothes. Soap, shower gel, and a mild laundry detergent are ideal.


Positions
You can place your doll into a wide variety of positions but when not in use it is best to restore her to the original factory position. If left in another position for a prolonged period, wrinkles may appear, particularly at the joints. Should this occur, put your doll in the suggested storage position to allow the wrinkles to reduce naturally.


Make-up
Our factory uses silicone paint for your doll's makeup and although it is made to last, do not wipe or rub it aggressively. Take particular care when cleaning the face, eyebrows, and eyelashes as these areas are difficult to repair when damaged.

You can use cosmetic products such as lipstick and blush on your doll but avoid those that are too thick or greasy as they will be difficult to remove.

When removing your doll's makeup, please do so gently using a mild makeup remover.